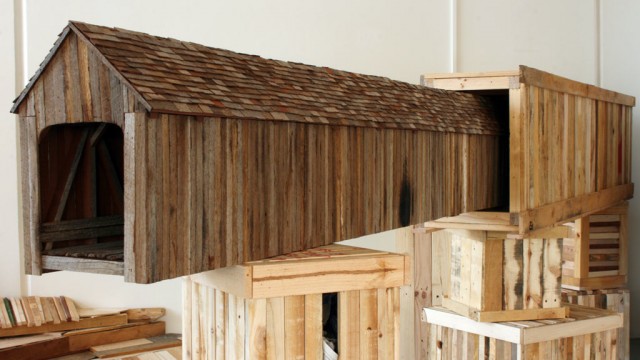 There ain't no water down under

TITLE: "there ain't no water down under"
DATE: 2011
MATERIALS: Found wooden fence slats, single channel video, LCD screen, DVD, fire.
DIMENSIONS: 40cm H x 22cm W x 290 cm L (1 ft x ft x 10 ft)

DESCRIPTION: "There ain't no water down under" is a scaled model of Babb's Bridge (Windham, Maine, USA) the oldest remaining covered wooden bridge in the state of Maine, USA. The original bridge was "burned by vandals" in 1973 and has since been rebuilt to original spec. This model is re-constructed using Jarrah boards from a demolished wooden fence found on the side of the road in Jolimont, Western Australia. Upon peering into the entrance/exit of this model bridge, you will notice sections of the bridge are burned out, however the bridge continues on, seemingly into an infinite void.